We've learned a lot about ourselves this year: the good, the bad, and the ugly. But while some of us would like to believe that we are doing everything right, I implore you to take a moment of self-reflection. If you're like me, you roll out of bed, grab a cup of coffee, walk to your desk (or drive if you haven't been working from home for 8 MONTHS), and then you stare at a screen for the next 16 hours. And no, that is not a mistake or a typo…I literally mean 16 hours. I'm not just talking about the time you spend looking at a computer for work, I am also referring to the time you spend consuming content on LinkedIn, Instagram, Facebook, Pinterest, Twitter, your television, streaming service, and the list goes on.
Social Programming
Most may be familiar with the movie "The Social Dilemma," but for those of you that are not, the general premise of the film is how social media and social networking companies have used their algorithms to rewire the human brain and what it means for society. Yes, you heard that right. REWIRE YOUR BRAIN. While you've been taking a "mental break" from your work or decompressing at the end of the day on social platforms, these companies have been molding you into the perfect product. And as consumers spent increasing amounts of time on these websites, the algorithms learned even more.
thriveglobal.com
While we all hope that these findings would be used for the betterment of individuals, it's not likely the case as even the engineers may not understand the full extent of their algorithms. Therefore, people are increasingly weary (rightfully so) of the transparency from these social media companies, which is undoubtedly decreasing their trust of promoted content. A solution does not appear to be in sight, but I do believe it is up to those whom participate in the social experiment.
What Can Be Done?
When I say "those whom participate" I do not just mean those pushing content, I also mean those consuming content. This is a symbiotic relationship, where the consumer has just as much responsibility as the brand to dictate the type of content and products promoted.
Be A Smart Shopper. In recent years, sponsored ads and influencers appear more and more like infomercials, pushing narratives like "buy one, get two free…just pay shipping & handling." Little do you realize that item advertised at $19.99 will cost you nearly $100 and is not likely to live up to expectations. Every time I fell for this scam in the early 2000s, I kept saying "never again," but I somehow found myself calling a new infomercial ordering department one year later.
I no longer watch cable and thus have outgrown my infomercial phase, so you can imagine my surprise nearly 20 years later when I am tapping through all the purchase prompts from a social media sponsored ad, only to realize I've fallen for the same stunt AGAIN. They got me. The algorithm worked perfectly. I was the perfect "product." Now, I'm not saying every sponsored ad on social media is a trap, but the holidays tend to find an influx of junk and scams in your feed.
Here are some tips to help you be a more present shopper and outsmart the algorithm this holiday season:
Do Your Research… And Trust Your Gut. Before making that impulse buy that seems too perfect, copy the product name into a search engine, go to the brand website and social accounts, look up reviews. But remember that not everything on the internet is true, so trust your gut. You can believe me…I research vacuums for a living and I can't always trust the first site I visit for information.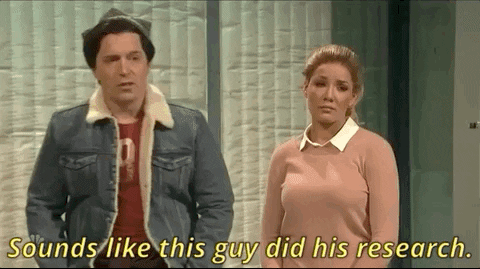 "Patience you must have, my young Padawan." You've done your research and you're ready to buy? Wait! While the pandemic has thrown us into a frenzy of panic buying, trust me when I say, it's better to wait. Give yourself a day or two. If you forgot, it was probably the flashy lights and instant gratification that got you excited, not the product. If you remember and you still feel strongly about how awesome it is, treat yourself. And who knows, a holiday promotion may have popped up in the meantime.
media.giphy.com
Don't Fall Asleep at the Wheel. Folks, life is short. Social media is an amazing TOOL. It's just a shame that most of us treat it less like a tool and more like a body part. So, when you wonder why Instagram or Twitter know so much about you, don't act surprised. Instead of passively scrolling through 100s of photos of your friends or sharing an image of your 230th Quarntini (quarantine martini for those lucky enough to not know), close the app. Instead, try calling a friend or joining a virtual happy hour or trivia night. You may find more happiness and fulfillment from those human-to-human interactions than the instant gratification of purchasing something you don't need.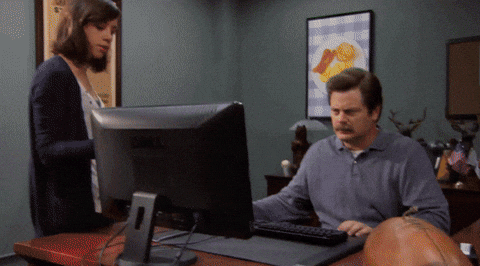 Stop Chasing Perfection
After all of these tips to navigate social media and the sponsored ads, you're likely to find that the algorithm is still there. It will never stop learning all it can about your social behaviors, web browser history, and that random thought you had in your head 10 minutes ago. But fear not. You do have far more control than the algorithm and marketers would like to believe, so I'll leave you with these three final reminders.
Be thoughtful.
Be present.
Be a smart shopper.
P.S. And don't forget to talk to me if you're in the market for a new vacuum.
For more than 17 years, gap intelligence has served manufacturers and sellers by providing world-class services monitoring, reporting, and analyzing the 4Ps: prices, promotions, placements, and products. Email us at info@gapintelligence.com or call us at 619-574-1100 to learn more.