It's officially been a month since I packed my bags and moved from the sunny beaches of San Diego, California back to my home state of Colorado. If you're at all curious as to why I did that, you can check out my fellow Colorado-born gapper, Karen Hartzman's blog: San Diego via Colorado and Back Again which will provide you with more than a few good reasons.
For this edition of gappy tumblr, I'll be talking about a rapidly growing type of employee; the remote employee gapper. There are a handful of us gappers who started out at gap in the office and for one reason or another, had to move and continue to do our jobs remotely. All it takes is a quick Google search to see that there are several opinions out there about working remotely, with some who fully advocate it and others who say it's impossible. After talking with my fellow remote gappers about how they felt, we agreed that while it's definitely possible to be a remote gapper, there's a good mix of benefits and struggles:
Some Work from Home Benefits
1. It's amazing how productive you can be in your own space.
---
2. The dress code for a remote employee is even more comfortable than it is in the gap office.
---
3. You get to have office pets (FINALLY).
---
4. No one around to judge you while you rock out to your music at your desk.
---
5. It's your kitchen and you can eat whatever you want and drink ALL the coffee!
---
6. You have full control of the temperature in your home office.
---
Let's Not Forget That There Are Some Struggles
1. When you walk away from your desk and come back and have a million chat notifications because no one can see that you're not at your desk, it's like…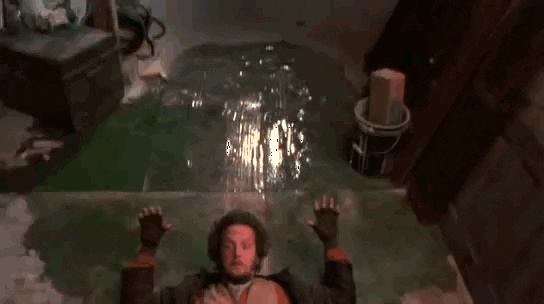 ---
2. Using video chat and having to see what you look like all the time (especially now that you don't try to look presentable).
---
3. Waiting for large files to download through the VPN.
---
4. Having to deal with home-office spiders on your own.
---
5. Trading office noise with the noise of construction, marching bands, and dumpster trucks.
---
6. Maybe having too much access to food all day.
---
7. Seeing all the fun things your company gets to do that you don't.
---
8. Missing out on bonding with your fellow gappers.
---
9. Finally, despite all the good and the bad, remembering that it won't be too long before you get to see your gap family again.