It's been almost exactly 4 months since I packed up my cats and belongings to move back to San Diego and once again work in the gap intelligence office, where I could be surrounded by my amazing co-gappers and live our culture to the fullest. For those probably not keeping score, I spent 4 years in Colorado as a remote gapper after spending 5 years as an in-office gapper. I made the decision to come back because I needed to be around people gappers everyday again and frankly the remote lifestyle just wasn't for me.
Little did I know that 2020 had a truly ironic fate in store: I was to become a remote gapper yet again just 17 weeks later.
A Light in the Dark
Now, like people all over the world, I find myself feeling a little helpless and a little unsure of how to pass the scary months ahead. While gloomily setting up my remote work space for who knows how long, I had a moment of déjà vu. A memory of the first time I set up my remote desktop in Colorado 4 years ago and was making mental notes about the next gappy tumblr blog I was planning on writing about being a remote gapper. I immediately looked up that very blog and found myself laughing and sharing with other gappers, because those blogs are hysterical and who doesn't laugh at hilarious relatable gifs?
That's when I realized that's what we all really need right now, a good laugh. We're living in uncertain and seemingly darker times, and when so much is out of your control what else can you do but find a reason to enjoy whatever you can. With that, I give you:
The Benefits of Being Quarantined
1. We're finally being encouraged to let our inner introvert come out: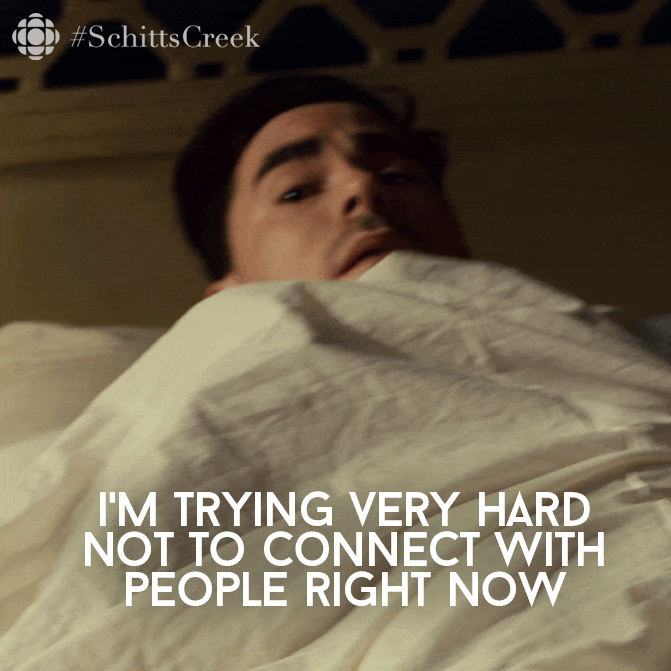 gif credit
2. My place is so clean now; I mean I couldn't possibly have worked under my normal living conditions:

gif credit
3. As anyone with pets can relate, they are overjoyed that their loving caretakers are home with them all day:

gif credit

gif credit
4. Your close proximity-mates will be bored enough to want to know what your actual job at gap intelligence is:

gif credit
5. Now that you have all this time to be quarantined, you can finally work on that creative project you've never had time for:

gif credit
6. And of course, let's not forget about constantly wearing sweatpants (literally everyday) and the best excuse ever to binge watch our favorite shows:

gif credit

gif credit
Expected (and Unexpected) Quarantine Struggles
1. Social distancing when you live alone feels a little like a jail cell that you're slowly going crazy in:

gif credit
2. Laughing at the panic shopping being done by others and then remembering you have nothing at home to eat:

gif credit
3. Then getting to the grocery store and seeing the shelves are virtually empty:

gif credit
4. Dealing with the now constant paranoia of not touching your face (or anything that could have germs):

gif credit
5. Missing your co-gappers and the daily interactions:

gif credit
6. To the point you invent your own crazy version of Wednesday snack attack to fill the void:

gif credit
7. Learning to embrace the rarely simple process of getting your remote workstation up and running:

gif credit
8. Not to mention video chatting from home when you've stopped trying to look presentable:

gif credit
9. But when all else fails, and you're feeling like you should be out and about doing something, just remember, for the sake of others: Do less.

gif credit
Flatten the Curve
While there's no way to know how long our remote situation/quarantine will last or how difficult that time will be, it's important we remain informed and responsible for every one of our actions. As mentioned in our Coronavirus Company Update by CEO, Gary Peterson, "it's our responsibility to 'flatten the curve' of this virus".
Those of us who are fortunate enough to have a job that allows remote work should consider this the easiest way to do our part. When things feel tough, find a way to laugh and carry on, and remember we're all in this together (but obviously at a 6ft distance).
Do you have what it take to be a gapper? We're hiring! Head to our culture section to learn more about open positions. We're conducting phone interviews as we work towards flattening the curve. Stay safe and healthy. We're all in this together.